Promoting Practical Goodness
Promoting Practical Goodness
Our weekly "Promoting Practical Goodness" Award is an opportunity to recognize our fellow church members and friends for the many small ways people give of themselves at UUSG.
If you'd like to nominate someone, send to Christine Imielski 1-2 sentences about what they do (or did).
We express our gratitude to the following people!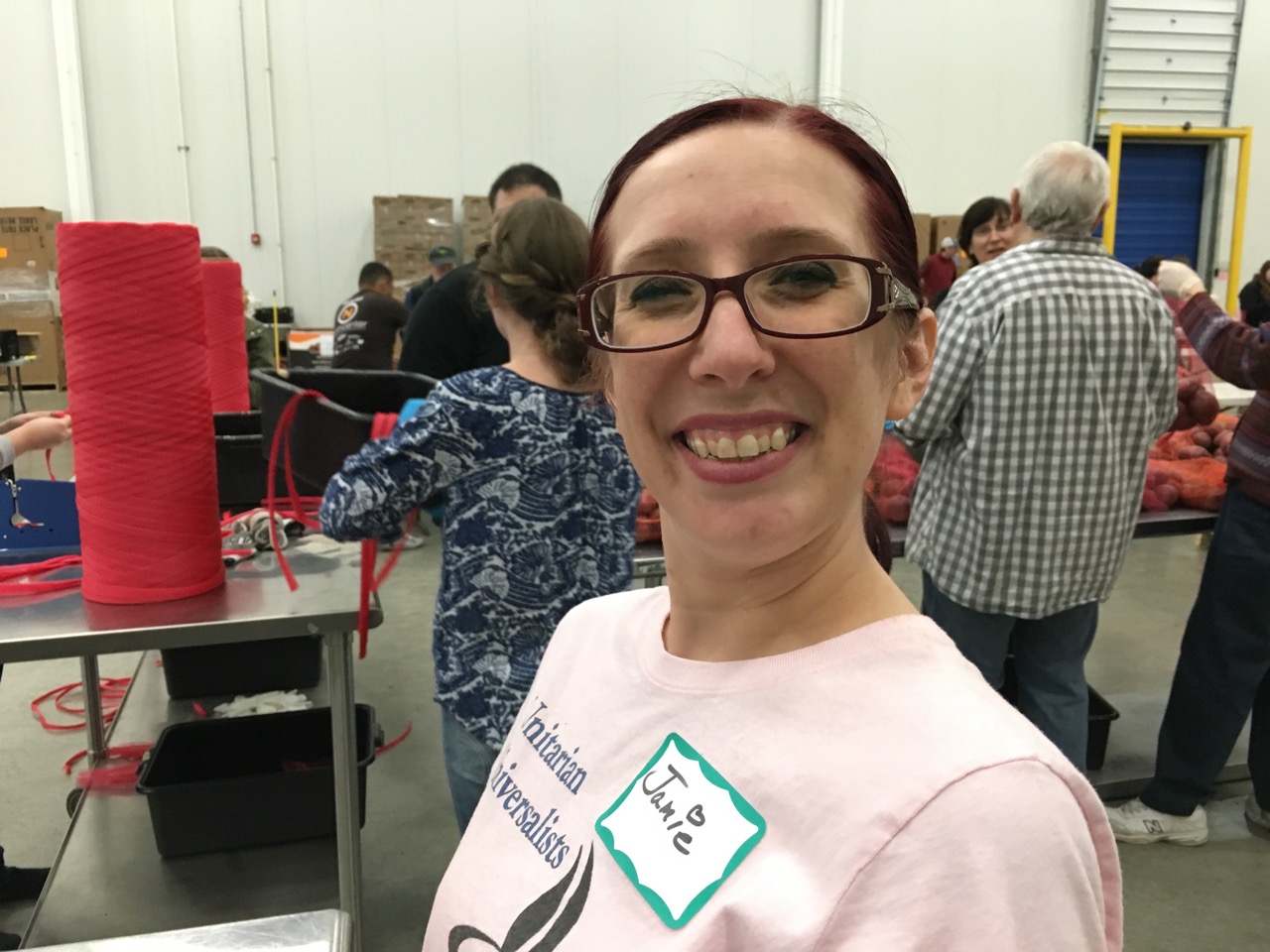 08/30/2015 Ben Zinser, a YRUU teen, who completed his Eagle Scout project by providing UUSG a totally new compost bin! Many thanks and best wishes for your senior year, Ben!
08/23/2015 Kevin Beyer for organizing a team to work at Northern Illinois Food Bank once a month, and especially for creating a sense of community among those volunteers. The group is a well-oiled, efficient machine as they pack food or change labels, and what a party it is!
08/16/2015 Ann Drover, Keith Gesiakowski, Natalie Hong, and Jason Sapet, who helped at the Swedish Days Pizza Booth and were inadvertently left off the list of volunteers. Thank you for your time and energy!
08/09/2015 Kathleen Herrera, Sally Jones, Carol Myers, and Kris Webster, who watered our new grass to help it get established earlier this summer. Special thanks to Velma Powers, who coordinated the project and did her own share of watering.

 
07/05/2015 Hal Schulman for all his efforts in creating the Emergency Response team with passion, commitment, and expertise. He has selflessly given his devoted time and talents to build this new ministry and make UUSG a safer place.
06/21/2015 Diane Handler, who coordinated the Pete Seeger Songfest with UU singer-songwriter Jim Scott on May 30. She took on the project with great enthusiasm and it turned out wonderfully – we had a turn-out of over 50 people and collected donations of nearly $300 for UUSG.
06/07/2015 Nancy Petersen , who has been a volunteer extraordinaire! She recently join the Hospitality & Fellowship Team where she has jumped right in assisting with the Social Hour and supporting other hosts.
05/31/2015 Al Drover, who was also a docent during the April 19 "Discovering Sacred Architecture" Tour of our historic church, and was inadvertently left off the recent list of volunteers. Thank you, Al, for sharing your knowledge and love of the church!
05/24/2015 George Tattersfield, who has been the brains and "brawn" behind the WOW Team's assistance for a dear church member. He organized an elaborate schedule and tended to many other small tasks to see that she had the needed help to assist with her full recovery from surgery. George is one of our church treasures!
05/17/2015 Pat O'Malley, Karen Moore, Don Brod, and Lou Pierce, who acted as docents during the April 19 "Discovering Sacred Architecture" Tour of our historic church.
05/10/2015 John Bucheit, Dan Masini, Molly MacKay Zacker, and Sandra Anderson-Cordogan for being fabulous OWL ("Our Whole Lives") Program chaperones and sleeping on the floor to make it all possible.
05/03/2015 Cathy Carpenter, who recently became a member, and has offered to help with the Social Hour for the various groups she has become a part of. Plus she's the chef of the delicious cous-cous salad at the Social Hour on April 19.
04/26/2015 Jeanne Neltnor and Vohny Moehling for providing refreshments for 75 people at the April 4th Kaage Memorial Service reception.
04/19/2015 Molly MacKay Zacker and Tracy Rosenkrans, who "troll" during Social Hour, scan Facebook, and generally keep their ears alert for any circumstance in which a note of encouragement, sympathy, or congratulations would be appreciated. The notes are sent on a weekly (almost daily) basis and are certainly welcomed by all.
04/12/2015 Martha Tabis and Andrea Gruszecki for the inspiration, leadership, and energy they put into starting a UUSG Drum Circle.How exciting to have another form of good music!
04/05/2015 "Church Bell Ringleaders": Jim Jenkins, Tom Lichtenheld, Patrick McGleam, and David Tomell. Our gratitude in particular to Jim Jenkins, who has provided his considerable skills to fabricate a customized metal piece to repair the break in the wooden wheel that causes the bell to ring. Thank you all for your prompt actions to allow us to have our precious bell ring out again!
03/29/2015 Sharon Hansen, Becky Hruby, Vicki Lantz, Vera Lind, Kathy Meier, Carol Myers, Renae Reardon, Nancy Russo, Kerry Sapet, Llona Steele, Ruth Wehling, and Molly MacKay Zacker, who have been hand-writing "thank you" cards to all of our pledgers.
03/08/2015 Vohny Moehling, who designed and created this year's canvass bulletin board, and has been updating it regularly. Thank you for sharing your creativity with us, Vohny!
03/01/2015 YRUU for their heartfelt efforts in providing the congregation with an imaginative and moving worship experience last Sunday.
02/22/2015 Mary Swanson, who has volunteered to coordinate this year's Swedish Days Pizza Booth! We're looking forward to another fun and successful week of fundraising.
02/15/2015 Dave Moore, who recently (and with a tight timeline) wrote a terrific article about our Canvass Day of Service and the 140 UUSG members and friends who were "promoting practical goodness" all over the Fox Valley. The article (uusg.org/day-of-service-article) is now on a number of online media outlets and was even picked up by the Chicago Tribune. Thank you, Dave, for your hard work!
02/08/2015 Jean Pierce and Lisa Gades, who put countless of hours into making yesterday's Canvass Day of Service another huge success. They started planning this event last summer and worked tirelessly to make the day fun and meaningful for everyone involved.
02/01/2015 Gail & George Tattersfield, who stuffed, stamped, and labeled over 250 Pledge Packets last week.
01/25/2015 Martha Tabis, who made beautiful new valances for the middle meeting room upstairs in Pioneer House.
01/18/2015 Sam Mejia, who was the fearless leader of the UUSG Women's Retreat last weekend. Participants had an amazing time of bonding, sharing, and introspection. Thank you to Sam, Debbie Leoni, and 7 other UUSG women for creating such a nurturing atmosphere.
01/04/2015 Tom Lichtenheld and Jeff Stibal for delicately guiding us into the 21st century with a wall-projected "For All Ages" story in December. Tom had an inspiration for the whole congregation to be able to participate and Jeff constructed the unobtrusive 12' stand for the projector.
12/21/2014 Jim Frazier, who is taking hundreds of photographs of church members & friends and then editing them for our spring 2015 photo directory. Thanks also to Patrick McGleam for his technical assistance with this project.
12/14/2014 Anna Rosenkrans and Ryan Thornton for sharing their time, talents, and horderves with the everyone in the child care rooms the night of the auction.
12/07/2014 Sherri Casterline, who has co-coordinated our Cookie Walk fundraiser for more than a decade. Thank you, Sherri, for the time and energy you have given to make this event a celebrated tradition! Special appreciation to Diane & Tom Peters, who will step into Sherri's shoes starting next year. And continuing gratitude to Elba Karim, who has been co-coordinating for many years; we hope she'll keep doing so!
11/30/2014 Doreen Christiani for her work installing the Small Business version of Microsoft Office 365 for UUSG staff. Now all administrative staff have modern versions of MS Office products as well as secure file sharing and backup, and even conferencing and email in the future.
11/23/2014 Sharon Hanson, who recognizes the hard work of our hosting ministries for their efforts at Sunday Social Hours by sending thank you notes to each group and team. Her attention and effort are much appreciated.
11/16/2014 Jean Pierce for pulling off last night's amazing "Saturday Night Feverish Auction" fundraiser! There were several people working on the event, but Jean did the VAST majority of the work and she deserves a gold star. Silver stars to co-chair Jan Miller and everyone else who helped out, set up, donated, cleaned up, or otherwise contributed to the success of the auction. Results will be published soon.
11/09/2014 Jodi Brown, who is a relatively new member at UUSG and yet has really made a commitment to make this her home by stepping up to co-lead our Lifespan Religious Education Team and serve be a member of the Search Committee.
11/02/2014 Nancy Goodfellow for her amazing dedication to UUSG. Last weekend alone, she helped host the Harvest Dinner, set up for the Simple Living Group's Social Hour, and jumped in to substitute for a sick LRE teacher.
10/26/2014 "Jeanne Neltnor, Vohny Moehling, Cindy Vacek, and everyone else who helped with Sharon Wiese's memorial service on October 18 by bringing food, setting up, and cleaning up. Due to unforeseen circumstances and
at the last minute, Cindy and Rev. Lindsay also worked overtime to accommodate a reception dinner for nearly 100 people in our Common Room. Thank you all for your time and extra effort!"
10/19/2014 Betty Bristol, whose involvement in our WOW ("Within Our Walls") Team is exceptional. Betty has volunteered for most every meal request as well many outreach opportunities. She's a dynamic member of WOW and UUSG.
10/12/2014 Patricia Ward, who is always at UUSG doing great things for the church, including leading the Heritage Team and being on both the Finance Team and the Board of Directors. She has also helped many times with Social Hour (including today with the rest of the Heritage Team)!
10/05/2014 Larry Mathias for helping Sherri Casterline change the Sanctuary curtains--thank you both for the beautiful fall colors!
09/28/2014 Sally Jones for fearlessly digging in to attack the ferocious weeds in the lawn & thus avoid use of herbicides! Bravo,Sally!
09/21/2014 Jim O'Malley has been entering and tracking UUSG Pledges and donations since 1996. Every week, he tracks checks and cash donations so that those who give to UUSG will have accurate information and the Church will have an accurate record of that income. He's been spending 2-3 hours per week for the last 18 years entering data and depositing those checks. Very dedicated, very awesome. Thanks, Jim, for keeping us on track!
09/07/2014 Trish Beckjord, who recently planted small hostas in the Memorial Garden, adding a lovely bit of brightness between the stones.
08/31/2014 Sherri Casterline, and Chuck & Vicki Lantz, who made a few improvements in the Conant Room (off James Street) to give that entrance a little more privacy—Sherri made the curtains, and Chuck & Vicki put up the decorative contact paper.
08/17/2014 David & Renée Tomell, for stepping in every summer Sunday morning to make sure we have coffee and tea and cold water. Gratitude to them and to others who have also stepped up on various Sundays to help.
08/03/2014 Mary Garland for volunteering to organize our library! Mary will help us get the library up and running. We have several new books and are excited to share them.
07/27/2014 Kevin Beyer & Kim Liang for taking the time to update our offering envelopes with new stickers
07/20/2014 Jeanne Neltnor for the four years she single-handedly coordinated UUSG's monthly commitment to Lazarus House. Jeanne ensured lunch, dinner, and overnight support were provided, and frequently stayed overnight herself. Thank you, Jeanne, for all your hard work serving the homeless in our community.
07/13/2014 our weeders: Elke Chateau; Diane Handler; Becky, Sean, & Calvin Hruby; Sally Jones; Cathy Kern & Alistair Betts; Karen Laukaitis, Katie Masini; Kathy Meier; Julie Riffle; and Llona Steele. Thank you for making our grounds beautiful.
07/06/2014 David and Renée Tomell for always stepping up to help at the Social Hour. The Tomells have been available in recent months to explain details of brewing coffee to anyone in the kitchen on Sundays. Cheers to your support!
06/29/2014 Tom Russo, for the countless hours he spent making sure our Swedish Days Pizza Booth ran smoothly, keeping our volunteers safe from the inclement weather, getting cold water to the thirsty people of Geneva, and managing a thousand little details to make this year's booth a success.
06/15/2014 Mary Swanson, Molly MacKay Zacker, and Betty Bristol for offering to wash UUSG tablecloths and curtains over the summer.
06/08/2014 UUSG stalwart George Tattersfield, who is stepping down from the Finance Team after many years of service. Don't worry, George isn't going anywhere—he will still serve as Canvass Team leader, WOW Ministry co-leader and Head Bell Ringer among his many UUSG commitments. Thanks, George!
06/01/2014 Linda Burke, who has served on the LRE Team for several years and most recently was the LRE Team Leader. Linda has been an incredible asset to the LRE program. Her dedication, organization and love for UUSG have helped us maintain a successful program. Linda is stepping down as LRE Team Leader to begin her new position as grandma to her beautiful granddaughter in Alexandria, VA. We will miss Linda, but we wish her all the best in her new adventure!
05/25/2014 Conservation Foundation, which donated a flat of lovely "Shooting Stars" to UUSG last week in appreciation of our recent "Beyond Our Walls" donation to them. These flowers are native to Illinois and are already blooming in our front yard!
05/18/2014 our Nominating Committee—Jenny Stewart (chair), Jim Frazier, Ellie Radvanovsky, John Rosenkrans, and David Tomell—for the time and effort they put into finding the next Board of Directors, a great group ready to lead us into the future!
05/11/2014 new UUSG friend Vicki Lantz, who volunteered a few hours last week to vacuum and wipe off our nametag holders—they were a bit dusty and she did a great job cleaning them up!
05/04/2014 Glenda Peck for all the time and energy she gives to run our WOW Team. In addition to coordinating help when requests come in, she's also been proactive by putting together a "Soup Brigade" so easy meals are ready to deliver to church members and friends. For anyone recovering from a medical adventure or just having a hard time, keep our WOW Team in mind if you need help with meals, errands, etc. One email to wow@uusg.org and you'll be on your way to getting help.
04/27/2014 Jeff Stibal, our volunteer Technical Director. Among other things, he records all the services, coordinates podcasts of sermons, runs sound for the annual WFMT concert broadcast from UUSG, and recently spent a whole day installing a new overhead speaker in the Sanctuary. He individually mikes all the musicians and singers every weekend, adjusting their needs from week to week and during each service. Thank you, Jeff, for sharing your love and talents to do this important behind-the-scenes work!
04/20/2014 Mark Adams, Eleanor Hamilton, Anne Brink, Carol Myers, and Ed & Ruth Wehling, who joined Green Sanctuary Team members Nancy Goodfellow, Ann Drover, Llona Steele, and Linda Valentine in staffing a booth at the Peck Farm Earth Day celebration on April 12. We appreciate your help in making available to others various eco-friendly items that contribute to better earth stewardship and "green living."
04/13/2014 George Tattersfield for his work running this year's canvass. He did a fantastic job getting new people involved in the process, and he spent many hours making sure that all church members and friends were contacted and had their questions answered. Thanks for your time and energy, George!
04/06/2014 Vohny Moehling and Glenda Peck, who created this year's wonderful Canvass bulletin board display, complete with 3-D snowflakes and a great graphic representation of how UUSG is "Building Momentum." Thank you for sharing your creative gifts!
03/30/2014 the DUUkes and DUUchesses of "Downton A Bee" (aka Julia Adams, Michele Hoecker, and Brian Joosse), who successfully defended their title as Champions of the Fox Valley Literacy Trivia Bee on March 22!
03/23/2014 our Congrational Administrator, Katie Phillips, who celebrates her 8th anniversary with UUSG today! She's grateful that the little church she'd never even noticed before took a chance on a failed telemarketer (who just wanted to organize things) and her trusty Malamute.
03/16/2014 our Search Team members Jodi Brown, Dick Yingst, John Rosenkrans, Molly MacKay Zacker, and Jenny Montgomery. They have met dozens of times and spent countless hours behind the scenes working toward our Assistant Minister goal. Thank you for investing in our future with such full hearts!
03/09/2014 Tracy Rosenkrans for being in charge of our music program and working hard to provide us with a variety of musical talents each month!
03/02/2014 the YRUU parents who hosted last week's Social Hour. Thanks for the pizza, chocolate fondue, lemonade, and the incredible brunch spread that you so graciously provided.
02/23/2014 Jim Burke for getting 14 stuck pieces of paper out of our paper folder and getting it to run again like new!
02/16/2014 Patricia Arzaga, our newest UUSG pianist. Patricia jumped in as choir accompanist with 5 days notice and did a superb job with only a Sunday morning run-thru rehearsal. Thank you from all our musical hearts and welcome aboard!
02/09/2014 Lyn Wilder-Dean, Kevin O'Neill, and Bill Scown for helping Katie Phillips with this year's Pledge Packet mailing. They prepped over 250 envelopes!
01/26/2014 John Rosenkrans for spending hours to repair and rebind an otherwise perfectly acceptable pianist hymnal. Thank you for being so generous with your music library skills!
01/26/2014 the merry band of elves that braved the cold weather to un-decorate the church the first weekend in January. Thank you for your hard work!
01/19/2014 our wonderful choir, led by the talented Bridget Kancler, for the beautiful and moving music they provided for the 8pm Christmas Eve service.
01/05/2014 Nancy Goodfellow, whose dedication helped make the Holiday Joy Pageant on December 22 a success. She was in the kitchen all morning on Sunday, working behind the scenes, making sure there were healthy snacks and goodies for all the LRE kids and guests for our pageant.
12/29/2013 Melissa Auer, Betty Bristol, Diane Handler, Kim Liang, Alice Martin, Patrick McGleam, Jeanne Neltnor, Jean Pierce, Lisa Rittenberry, Bill Scown, Gail Tattersfield, Shawn Thornton, and Cindy Vacek for taking part in this year's trip to the Illinois Youth Center and spending time with boys who otherwise would not receive Christmas visitors or gifts.
12/22/2013 the 41 people who joined our Holiday Decorating Party on November 30. Adults and children of all ages gathered together to make popcorn strings, hang garland, haul boxes up from storage, and decorate the trees with homemade ornaments. Thank you for making UUSG a beautiful and festive place this holiday season! Special appreciation goes to our incredible Hospitality & Fellowship Team, who organized the event and provided food.
12/15/2013 Laura Bartoszek, who hauled 4 boxes of donated food to Humanitarian Service Project last week to distribute to families in need. Our thanks to everyone at UUSG who supported this project with donations of canned goods, pasta, hot cocoa, and other much-needed items.
12/08/2013 to our capable, committed, and faithful staff members, Katie Phillips and Lisa Rittenberry. In addition to performing their regular and substantial duties, they have recently gone above and beyond the call of duty to carry out the truly disgusting tasks of arranging for removal and performing the cleanup of—not just one, but TWO—dead animals from our premises in the last few months. Truly a YUCK task! Much gratitude, appreciation, and admiration for their dedication and spunk!
12/01/2013 Vohny Moehling and Jeanne Neltnor, this year's Thanksgiving Angels. They opened their hearts and culinary talents to organize the first UUSG Thanksgiving Dinner for members and friends to enjoy
11/17/2013 "Mark Alleman for being a Greeter Extraordinaire. Church member Holly Orcutt says, ""Knowing that I will be fully welcomed and acknowledged when I arrive, even late, has a huge impact on how often my family makes it to service. He definitely takes greeting to the next level of welcoming.
11/10/2013 Jim Burke for all the work he does in organizing the Circle Suppers!
11/03/2013 Karen Kemp & Karin Moore for updating the urns in front of the Sanctuary with beautiful fall decorations.
10/27/2013 Karen Laukaitis for organizing the fall play date last Sunday
10/20/2013 Jaime Andersen and Steven Lougheed for donating a new gliding rocker for the nursery.
10/20/2013 Collin Klein for pitching in to help with the dishes at social hour last Sunday.
10/13/2013 Cynthia Spiegel, who the piano accompaniments for two of the "FUUsion" pieces at last Sunday's service and was inadvertently left off our list of musicians.
10/06/2013 Linda Burke, Sue Stibal, Laura Bartoszek, and Jenny Montgomery for their tremendous help during the Habitat Potluck--they completely saved the day!
09/22/2013 Jean Pierce, Cindy Vacek, Pat Vary, Linda Burke, Jeannie Scown, and Andy Montgomery for their work on redesigning the Mini-Pioneer so we can share more information AND still save paper!
09/15/2013 Kim & Chung Liang, Simone Leduc, and Jenny Montgomery for organizing the games at the church picnic last weekend. UUSG children have joined their fan club for great games!
09/08/2013 Jeannie & Bill Scown for their ongoing support of everything UUSG, particularly social justice.
09/01/2013 Dan Bottoms, who drove items all over town last month—he returned unused materials from the fence project, delivered a Christmas tree to Hesed House, and took other items to Goodwill.
08/25/2013 Jim O'Malley, for keeping accurate track of UUSG pledges. We get a lot of checks and he spends time every week entering them into our system and making sure the correct funds are credited.
07/28/2013 Nancy Goodfellow, Jennifer Mackey, Desiree Eastham, and Jenny Montgomery for helping with the classroom clean-up last week. We truly appreciate all your efforts to make our classrooms sparkle for the upcoming year!
07/21/2013 Pat McGleam, Dan Bottoms, and Deann Alleman, who cleaned out our backyard storage shed.
07/14/2013 Jake Montgomery, David Montgomery, Laura Bartoszek, Dan Bottoms, & Jan Miller for volunteering to work with Patrick McGleam on our landscape maintenance!
07/01/2013 Sara Hoerdeman, who is moving on to other activities after being Chair of the Communications Committee for the last year. Thanks for your hard work, Sara, especially for seeing the website project through to the end!
06/16/2013 Tom Russo, who retired from the Finance Committee last Sunday after 20 years of service!
06/09/2013 Cynthia Spiegel, who studies the worship themes and music and selects appropriate hymns for most services, just because she loves our hymns!
06/02/2013 Tracy Rosenkrans and Molly MacKay Zacker. They have been handling the handwritten personal communication for our ""WOW"" Care Ministry. These two ladies have their ""kindness network"" on high alert every week, and stay busy sending off notes of cheer and encouragement that strengthen our outreach tremendously."
05/26/2013 Page Poris for her exceptional Lay Ministry skills.
05/19/2013 Erin and Anna Rosenkrans, who stepped up at the early Mother's Day service to be smiling greeters, to collect the offering, and to distribute the bulletins.
05/12/2013 Dan & Joe Masini for helping a church member move heavy boxes out of her basement.
05/05/2013 Karin Kemp and Karen Moore for their continued dedication to the beautification of our church grounds. They arrange for the planting and care of the annuals (including watering and weeding) as well as the urns at the Sanctuary door.
04/28/2013 Brandi Mancini and Mary Swanson for helping a church member get to and from doctors' appointments.
04/21/2013 Dave Moore for so much of the writing work used during canvass and in various UUSG brochures, including the new "WOW" Care Ministry & Lay Ministry brochure. Look in your pew pocket today for a new brochure that explains about these ministries to those who are "Within Our Walls."
04/14/2013 Andy Montgomery for designing the new "WOW" Care Ministry and Lay Ministry logos. Look in your pew pocket today for a new brochure that explains about these ministries to those who are "Within Our Walls."
04/07/2013 Deann Alleman, for the time and energy she gives to the church to continually improve our facilities—she coordinated with the LRE Committee to update the Junior High classroom, maintains the changing display on the large bulletin board in the Common Room, and stays on top of numerous other facilities projects all year long.
03/31/2013 Julia Adams, Michele Hoecker, and Brian Joosse for performing a non-trivial feat when they claimed the first prize at the Fox Valley Literacy Volunteers Trivia Bee on March 23.
03/24/2013 Jenny Montgomery for the work she did to improve the Junior High Youth room—she coordinated with the Facilities Committee, picked out the paint (to be done soon), and moved the piano in order to provide our youth with a comfortable environment. If you haven't seen their new furniture yet, we invite you to take a trip downstairs to see it!
03/17/2013 John Rosenkrans for coming up with the name "WOW" ("Within Our Walls") for our new care ministry
03/10/2013 Pam Tilbrook, for being part of our new WOW ("Within Our Walls") Ministry and shoveling a church member's driveway after a recent snowfall.
03/03/2013 Vohny Moehling, for keeping us well-stocked in coffee, tea, chocolate, and other Fair Trade goodies.
02/24/2013 George Tattersfield, for helping people find seats during our Sunday services and recruiting kids to ring the bell.
02/17/2013 William Elbert, for the wonderful baked goods he shares with us at Social Hour. We are grateful to be able to enjoy the fruit of his culinary talents!
02/10/2013 Jim Frazier, for the time and expertise he has given to us as our resident photographer at various events (including the Pageant) and for our new website. His generosity is much appreciated!
02/03/2013 Shawn Thornton, for the time and support he gives to our homeless neighbors at Lazarus House.
01/27/2013 Mark Alleman, for being the welcoming face to our new visitors on Sunday mornings.
01/20/2013 Jim Burke, for enhancing fellowship in our community by organizing the Circle Suppers
01/13/2013 Julie Riffle, for embracing the Worship Associate program. We now have 21 Worship Associates!1/20/201
01/06/2013 Dick Yingst for helping with the December 22 holiday party for the boys at the Illinois Youth Center
12/23/2012 Bob Atac & Lucy Thelin Atac for making the front door look beautiful during the holiday season.
12/16/2012 Dave Hansen for donating his time & expertise to our local Pottawatomie Habitat for Humanity chapter.